GRAND PRIX AUDIO Isolation Systems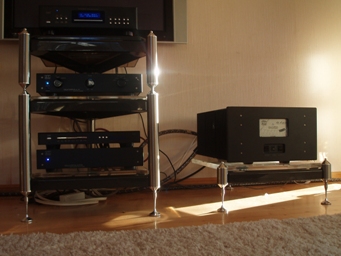 HighEnd proudly distributes the unique Grand Prix Audio Isolation Systems in the Nordic market. HighEnd is based upon a strong passion to music. Our philosophy is that sonic realism is the ultimate goal. We feel that the people behind Grand Prix Audio share or true devotion to music and our philosophy. Without reservation, we claim that Grand Prix Audio is the world leader within high-end audio vibration control and resonance control. This high-technology company always delivers the most effective isolation systems available, regardless of price. Any high-end electronics component will profit significantly from Grand Prix Audio's advanced cutting-edge technology. Installing a Grand Prix Audio Isolation System in your high-performance audio system will markedly improve imaging, precision, focusing and detail articulation throughout the whole audible frequency range. It will drastically increase the value of your investments in high-performance electronics components. We strongly encourage you to contact us for a demonstration!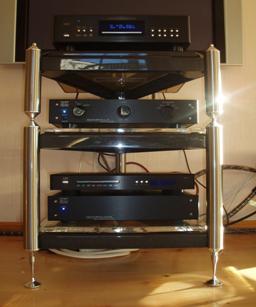 Grand Prix Audio's approach to vibration control and resonance control is derived directly from high-technology methods and composite material know-how utilized in Indy Car Racing. Alvin Lloyd of Grand Prix Audio, a genuine music lover, has extensive experience from Indy Car Racing engineering teams, designing winning cars for racing legends like Michael Andretti, Mark Dismore, Christian Fittipaldi, Roberto Moreno and Jimmy Vasser. Alvin Lloyd has taken advantage of the hard earned racing engineering expertise in designing ultra-effective isolation systems for high-end audio electronics equipment. The Grand Prix Audio products have an unparalleled performance, an outstanding finish and a truly striking elegance. Imagine what a level of perfectionism, cutting-edge engineering and innovation which is required in order to achieve such an impressive list of merits as Alvin Lloyd and his engineer colleagues has achieved within Indy Car Racing history. Imagine Grand Prix Audio!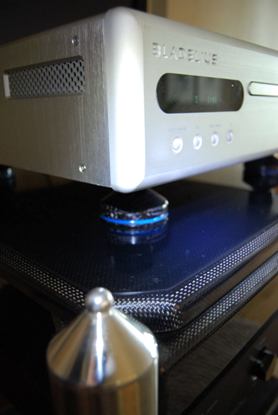 Please visit the manufacturer's website: www.grandprixaudio.com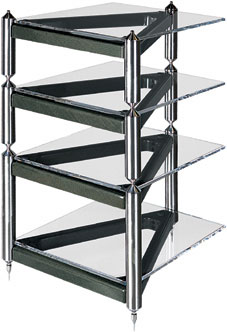 David W. Robinson from Positive Feedback installed the GRAND PRIX AUDIO Monaco Isolation System and the GRAND PRIX AUDIO Monaco Turntable i his high-performance system. He summed up his experiences in a review in Positive Feedback, Issue 25 / 2006:

"I've been listening to the Monaco/Dynavector combination for about seven weeks now, and it will be leaving very soon. I'm going to be very sorry to see it go. The impression it's left with me is of a turntable that has that crucial quality: it connects me emotionally to the music.

There's no reason to multiply words here: I think that Grand Prix Audio is really on to something important with their Monaco turntable and isolation system. In my estimation, the Grand Prix Audio Monaco turntable and Monaco Modular Isolation Systems definitely belongs in the first rank of turntables and isolation stands. If you are looking for a turntable with a compact footprint that will give you truly world-class performance, and have a budget that will float in this price range, you owe it to yourself to audition the Monaco(s). I think you're in for an extraordinary delight.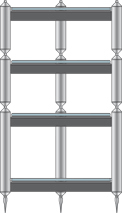 Since I judge this system to be in the "first rank" of turntables, I therefore give the combination of the Grand Prix Audio Monaco Turntable/Dynavector DV 507 MkII/Dynavector XV-1s on the Grand Prix Audio Monaco Modular Isolation System a Ye Olde Editor's "Highest Recommendation!"



More information:
http://www.positive-feedback.com/Issue25/monaco.htm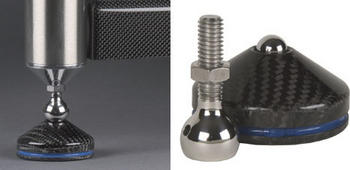 The GRAND PRIX AUDIO Brooklands Wall Mount Isolation System was descibed as follows in a review performed by Paul Candy from 6moons, June 2006:



"Oh my! The experience was one of those all-too-rare moments when one's world turns upside down. Once it happened, I realized that I hadn't truly heard what my components were capable of before. Now I felt myself questioning the validity of my previous reviews.

The Brooklands made that much of a difference. The Brooklands simply validated what I have long suspected but never really had a chance to experience first-hand: that controlling the music-robbing effects of resonance and vibration pollution is far more important than most of us realize. Now that I have heard it, it will be impossible to go back and pretend I didn't know better."

Please study the whole review here: http://www.6moons.com/audioreviews/gpa6/brooklands.html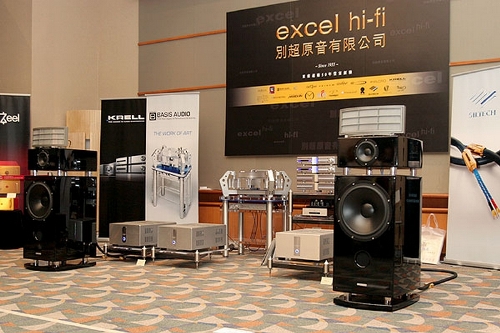 In a review of a high-performance audio system in Positive Feedback, Issue 26/2006, Mike Lavigne found that the GRAND PRIX AUDIO Monaco Isolation System significantly improved the performance: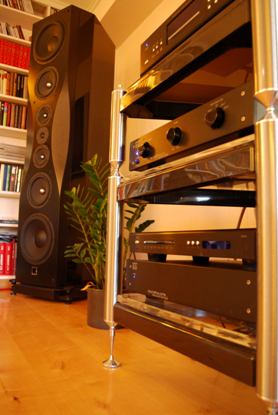 "I then tried the Grand Prix Audio amp stands for my main amplifiers (which at that time were the Tenor 300-watt monoblocks). This change had a huge effect again on bass linearity and coherence up and down the frequency range. There seemed to be no limit on the speaker's sensitivity to changes".

Is this a good thing? At that time I wasn't sure. Later on I had the same experience with a second set of Opus speaker cables. The speaker seems to keep on revealing more musical information as you work at improving the associated components."

Please find the Positive Feedback review here:
http://www.positive-feedback.com/Issue26/lavigne_vr9.html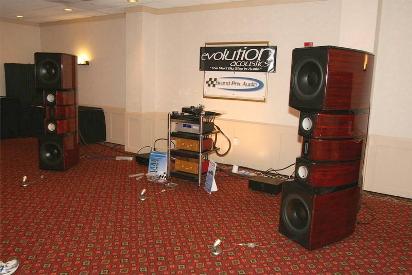 Greg Weaver from Positive Feedback was so impressed by the GRAND PRIX AUDIO Monaco Modular Isolation System that he did not only purchase it, but also awarded GRAND PRIX AUDIO the highly recognized PFO Writers Choice Award 2004.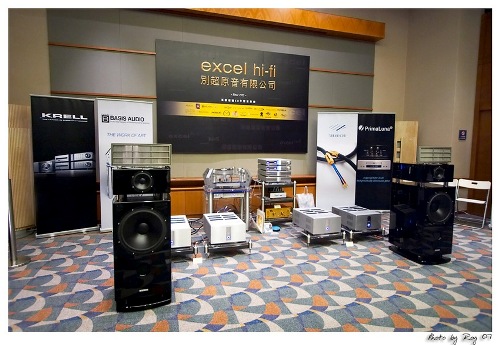 Monaco Modular Isolation System

"...While I expected the Monaco to have a positive impact, to say that I was unprepared for the resultant sweeping enhancements resulting from its installation would be the most severe of understatements. The Monaco's influence on overall system performance is, in a word, breathtaking. We are talking about a scale of enhancement that I would have believed unattainable by merely changing one component prior to its arrival, let alone one so patently passive. Its rewards come in three primary categories; resolve, timbre and space." Please click here to read the complete review: Positive feedback




Stereophile, desember 2002:
"...a sense of focus and a difficult-to-explain sense of calm to the sound... there was a noticeable reduction in the already low amounts of smear and blur. A fine curtain of mist was lifted from in front of the soundstage ...there was an increase of ease and centeredness that was clearly audible. Backgrounds became quieter, low-level detail retrieval improved markedly, and dynamic contrasts took on greater subtlety and sharper contrasts. ...a further level of stability, image definition, and overall refinement. ... depth of field and downstage resolution improved to a truly surprisingly degree, and the Zen-like calm I'd already come to expect from the GPA stands was immediately apparent.... Across the board improvements in resolution, imaging and dynamics make them a "must audition" for anyone looking to maximize the performance of a high-resolution system. Extremely effective, and highly recommended".





GRAND PRIX AUDIO product information: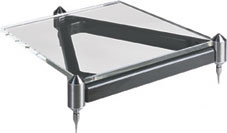 Grand Prix Audio Monaco Modular
Grand Prix Audio Monaco Amplifier
Grand Prix Audio Le Mans
Grand Prix Audio Monza
Grand Prix Audio Laguna
Grand Prix Audio Formula Shelves
Grand Prix Audio Apex Isolation Interface
Monaco Turntable
Brooklands Wall Mount Isolation System




The products from Grand Prix Audio has won the highest recognition attainable from the audience, the audio press and the industry. A rapidly increasing number of world leading high-end audio manufactureres procure Grand Prix Audio Isolation Systems in order to promote and demonstate their products. You will not realize what your high-performance audio components are capable of until you have installed a Grand Prix Audio Isolation System in your audio rig. Contact us for more information and a demonstration!

Please find more GRAND PRIX AUDIO reviews here: Reviews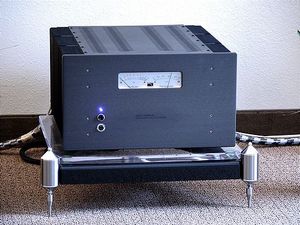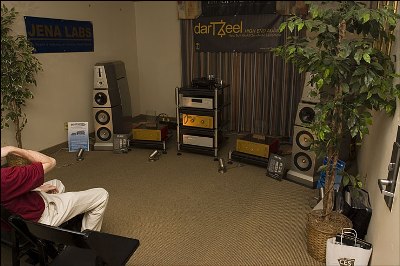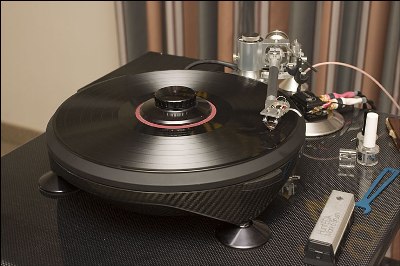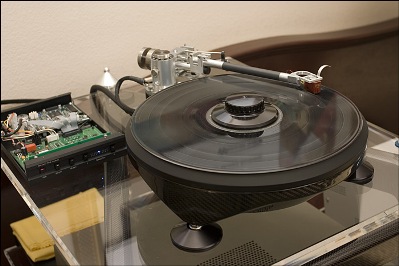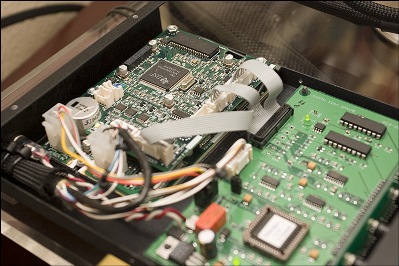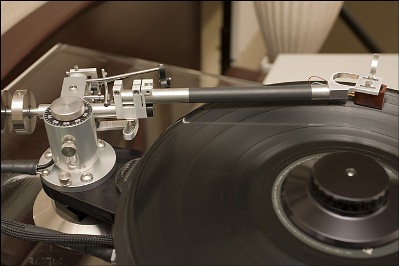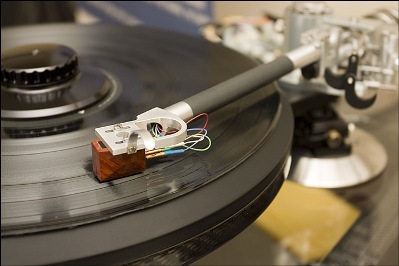 www.hififorum.nu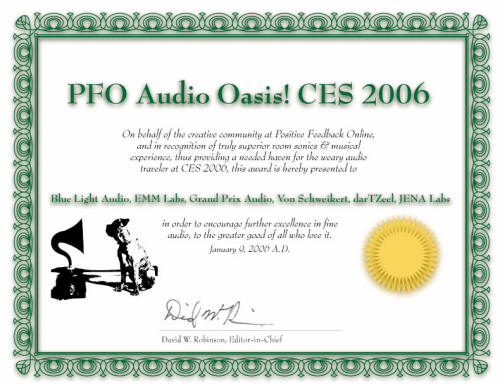 REVIEWS / SHOW REPORTS:
Positive-feedback: GPA MONACO
Positive-feedback: CES06 - 1
Positive-feedback: CES06 - 2
Positive-feedback: CES06 - 3
Positive-feedback: CES06 - 4
6moons: GPA Turn Table
6moons: GPA MONACO
6moons: Brookland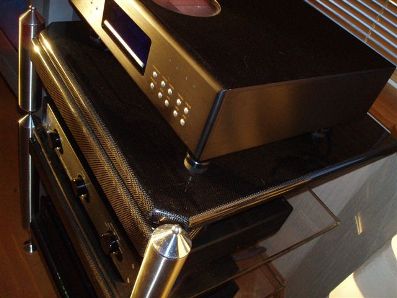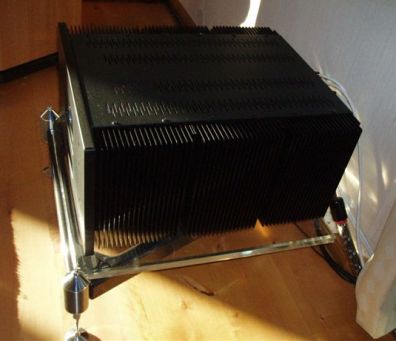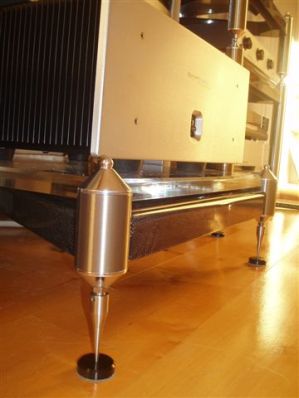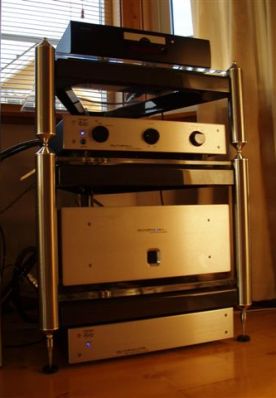 AUGUST 2007

New review of the GRAND PRIX AUDIO Monaco Isolation System:

6moons / Paul Candy, August 2007

Exerpt:
"Even my wife wandered into the room and asked why the bass seemed more powerful. Not only was it more extended, I heard far greater control and definition. I'm embarrassed to say that a good degree of flabbiness and general fuzziness I hadn't noted before simply vanished. Leading edge attacks became more pronounced but not in an overly aggressive or hyped up manner. Instrumental and vocal timbres were now richer and more complex. In essence, music playback became more real and lifelike, with less of a mechanical or artificial flavor which was something I honestly hadn't noticed before. Let this be a warning. If you can't afford a Monaco, then for crying out loud, don't try one because you will no doubt hock your car, spend the kids' education fund or live on Kraft Dinner for the next several months. If you are one of those listeners who get off on imaging, soundstaging and retrieval of ambient space, prepare to be shocked. Everything opens up in all dimensions and images become precise and clearly delineated. Transparency throughout the spectrum increased. It was laughable how bad my old rack was. In fact, I'd go so far as saying that I'm not so sure now if I truly heard what various components I have reviewed earlier were truly capable of. A sobering thought indeed. Swapping the stock spikes out for the Apex improved overall performance yet again. If you can afford the Monaco's asking price, I'd strongly recommend springing for the APEX and the upgrade bearings, too. Moonies Srajan and Stephæn have heaped plenty of praise on the Monaco as have Positive Feedback's Greg Weaver and David Robinson as well as Stereophile's Paul Bolin. I completely agree with their appraisals. In fact, I'll go on record by stating that the Monaco has made the most consistent and worthwhile improvement to my enjoyment of music over any other component. It's simply awesome and as perfect a component as I have ever reviewed. I'm convinced that if you're happy with your present system and want to maximize its performance, adding a Monaco will reap bigger rewards than the latest hot preamp of the month or those rare NOS 300Bs you've been saving up for. Since I started my audio scribblings at the moons, no product has surprised me more nor impressed me to the extent the Monaco has. It has become an integral part of my system and will no doubt do the same for yours."


DECEMBER 2008:

Positive Feedback Review 2008 / Greg Weaver: GRAND PRIX AUDIO Formula Shelf / GRAND PRIX AUDIO APEX Footers

"Besides having the above stirring "effect" on the bottom end, their introduction also contributed to MUCH more lifelike localization, sizing, and refined layering of instrument placement throughout the entire soundstage. They have further had the effect of "enhancing" the silence from which all sounds sitting on the Monaco now emanate… DAMN my records are quite now!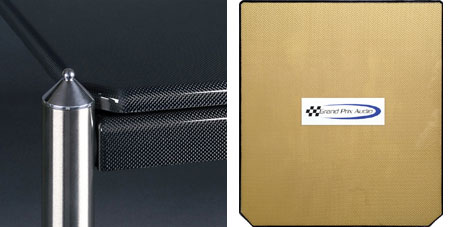 Their addition seems to allow a deeper, clearer, more intimate view back INTO the performance, liberating considerably more of the musical message. Hell, they even contribute to a slight "extension" of the uppermost frequencies. Once again, I sent my check with a HUGE thank you.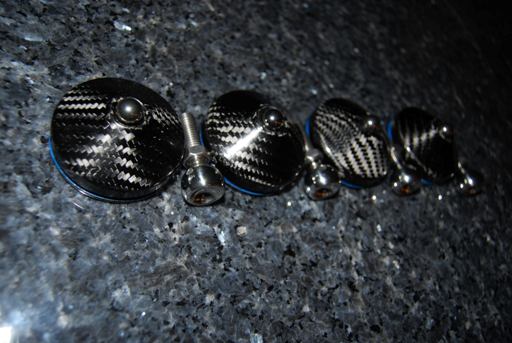 If I were to grant numerical values to the improvements these "upgrades" to the remarkable stock Grand Prix Audio Monaco Modular Isolation system contribute, then I would say that the Formula Shelf would effect a 12-15% enhancement to any components that rest on it. The Apex Footers afford something like 25 or 30% improvement to anything resting on any shelf of the Grand Prix Audio Monaco Modular Isolation system.

The Grand Prix Audio Apex Footer is an absolute NO-BRAINER and may be the single most effective isolation device I've yet had the good fortune to discover."

Read the rewiew: POSITIVE FEEDBACK




Tlf: +47 992 54 862
kontakt@highend.no